I am so happy to share this email I received as the topic is indeed lovely. It concerns an actress from India, Priyanka Chopra, who will appear in the next movie, The Matrix Resurrections.
Dear Rama Kandra,
It was announced that Priyanka Chopra is going to be in the Matrix 4.  If this remains true, will she play a grown-up version of your daughter, Sati? If so, what type of role would she be in?
The person who wrote this has made a logical connection. Sati was not only alive at the end of The Matrix Revolutions, she was showing some amazing creative power.
I must agree that my favorite Hindu actress, Priyanka Chopra is a perfect choice to play the older Sati!
I would like to suggest a few connections to ponder, regarding Sati's future role. These subjects will be discussed in the coming Matrix Resurrections articles, which will be in our Knowledge Base.
Was there a hidden and more significant reason for Sati descending into the Matrix world?

If Sati represents a positive force, why did the Merovingian allow her to go into the Matrix?

Would she have anything to do with the final destruction of the Matrix? How? What would that lead to?
The third point above is, of course, a significant one with regard to the movie.  There is the prophecy that Morpheus mentioned several times. Some may think that it was a lie, but I can assure you, this is not the case.
A prophecy is a connection. What happens between its proclamation and fulfillment, often requires many types of connections along the way. It is a chain of events. And many people have roles to play. 
Neo initiated this chain of events. With the help of others, he accomplished many of those things already. He opened the door for what remains to be done, in order for the false Matrix reality to end.
The Matrix Resurrections will reveal many things to us – including the real reason my daughter entered the Matrix. 
The framework for all of this is outlined on this website. I have additional insights I will share with you in my blog in the months ahead. Everything in its proper time. You cannot hurry love!
It will be amazing to have Priyanka Chopra show us the way out of the rabbit hole. 
Always with love,
Rama Kandra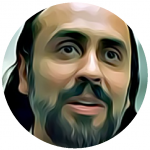 Rama Kandra seeks to bring balance into his discussions. He possesses great understanding of its importance in finding one's path and advancing upon it. When he's not busy working at the power plant, he likes dropping hints about the fourth Matrix movie.